Now, as you all can tell, I haven't touched a book (besides
Twilight, Harry Potter
and
The Princess Diaries
) in a reallyyyy long time. I remember when I was actually interested in books, when I carried my tattered and torn (but treasured)
Digital Fortress
(From Dan Brown, the author of
The Da Vinci Code
which I read AFTER
Digital Fortress
) for a couple of days, trying to read it in between classes and at recess and lunch like a little nerd. But then, school was way too busy and the only books I was carrying around were my English prescribed and related texts and my textbooks. But lately I've found some interesting books out there - I guess I haven't noticed them before because I hardly visited bookstores and because these are
high end
(in other words, expensive) books. And I just wanted to share them with you because they're great gift ideas for Christmas and I just want to list them here for future reference ^^;
Yeah that's right. I'm bringing back good old text on paper. Books that aren't boring:
First off,
Frankie Magazine
is not just a indie fashion magazine but it's quite a read! And the back issues go up in price like petrol. I mean the 2nd last issue is now $20 on their website and you can buy your Frankie magazines at Newsagencies for $8.95. I got my first issue yesterday and I really like the pages feel and the yummy feeling it emits. So go flick through Frankie and if it's something you like, go pick it up :) Also available is the Frankie Diary 2011 and Photo Album.
A book I found cute was the
Smiggle Get To It Journal
which, is a bit kiddish, but for $12 we can all be kids again for once :). It's filled with little drawings which you can use to design things and its a small little book you can pop in your handbag or backpack and you can take it out when you're bored to doodle in. Every 2nd page is blank incase the ink goes through or if you just wanna draw your own things :)
Another sorta design book is pretty popular amongst girls is the
My Wonderful World of Fashion
scrapbook. And in it are like different patterns and outlines of clothes and stuff for you to design your own and keep your ideas in. It's quite a large book though, and it can be a little more pricey :D
I found that the Typo store in the new Westfield on Pitt St. sold these
Listography books
and there's one for music, life, 2011 in lists, and a couple more and if you have a really close group of friends you can pass it around and people can lists what they like or you can add things over the years and see how your tastes have changed. I think the texture of the books are great and it really gets you thinking and it is great to share with your friends. They're not only available at Typo so have a look around for them if you're interested (or love lists, like I do! :D). An iPhone app is also available, and take a look at the
website
for more info.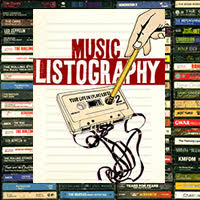 Other awesome books:
- Hyperactivity typography (I took a photo from Kino but I got told off! how snobby!!)
- The Bro Code (from HIMYM) - ~$20 from Dymocks/Borders
That's all :) hope you like these books and enjoy them :D